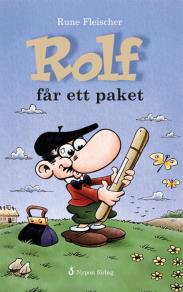 Rolf får ett paket
Rolf är glad. Han har hämtat ett paket.
  Det är från mamma.
  – Vad kan det vara?
  Jag måste skynda mej hem
  och öppna det,
  säger Rolf.
Rolf är en rolig filur med de bästa av avsikter. Men ibland blir det bara så fel. 
Lättlästa böcker från Nypon är ofta något kortare, har alltid ett lättare språk och ett innehåll anpassat för den tänkta läsarens ålder.

Rolf får ett paket finns på svenska, arabiska, dari, pashto och tigrinska, samt på polska (Rolf dostaje paczke), somaliska (Rolf waxa uu helay baakad), och engelska (Rolf and the Package).
Read sample
(Download)
---