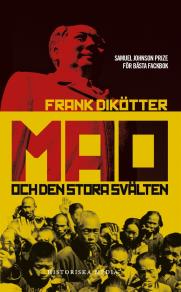 Isbn:
978-91-8726-334-7
Publisher:
Historiska media
Category:
History
Accessible since:
November 2012
---
Mao och den stora svälten
"Intressant och viktig läsning."
Helsingborgs Dagblad

"En tidigare icke skådad redovisning av de vederstyggliga, groteska, oerhörda missförhållandena under 'Det stora språnget'."
Gefle Dagblad

Vinnare av Samuel Johnson Prize för bästa fackbok 2011!

Mellan 1959 och 1962 dog fyrtiofem miljoner kineser. De misshandlades, svalt eller arbetade till döds. Med "Det stora språnge"t drev Mao Zedong sitt land till vanvettets rand när han på bara femton år ville komma i kapp den västerländska civilisationen på alla plan. Resultatet blev en av de största humanitära katastrofer världen skådat. Frank Dikötter har grävt djupt i de kinesiska arkiven och fått fram nytt och mycket skrämmande material. Han ger röst åt de döda och förnedrade i denna banbrytande skildring, som ger en helt ny bild av Kinas historia.

För Mao och den stora svälten mottog Frank Dikötter den prestigefyllda utmärkelsen Samuel Johnson Prize för bästa fackbok 2011. Titeln är även utvald till Årets bok iThe Independent, The Economist, The Sunday Times, London Evening Standard, The Telegraph, New Statesmanoch BBC History Magazine.
Read sample
(Download)
---