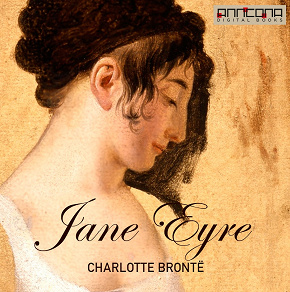 Isbn:
978-91-7605-094-1
Publisher:
Anncona Media
Category:
Novels
In english
Accessible since:
March 2014
Narrator:
Elizabeth Klett
Length: 18 hours 25 minutes
---
Jane Eyre
Jane Eyre is a Victorian romatic novel by Charlotte Brontë. first published in 1847, under the pen name "Currer Bell." Writing for the Penguin edition, Stevie Davies describes it as an "influential feminist text" because of its in-depth exploration of the main female character's feelings.

Primarily of the bildungsroman genre, Jane Eyre follows the emotions and experiences of its eponymous character, including her growth to adulthood, and her love for Mr. Rochester, the byronic master of fictitious Thornfield Hall.

In its internalization of the action - the focus is on the gradual unfolding of Jane's moral and spiritual sensibility and all the events are colored by a heightened intensity that was previously the domain of poetry- the novel revolutionized the art of fiction.

Charlotte Brontë has been called the 'first historian of the private consciousness' and the literary ancestor of writers like Joyce and Proust. The novel contains elements of social criticism, with a strong sense of morality at its core, but is nonetheless a novel many consider ahead of its time given the individualistic character of Jane and the novel's exploration of classism, sexuality, religion, and proto-feminism.

According to a review of Jane Eyre in The Quarterly Review, it was found to be "pre-eminently an anti-Christian composition". Although Brontë clearly intended for the book to be a protest against Victorian lifestyle, which caused a great unrest with the Quarterly Review, they found Jane Eyre to be more radical than its original intent: "We do not hesitate to say that the tone of mind and thought which has overthrown authority and violated every code human and divine abroad, and fostered Chartism and rebellion at home, is the same which has also written Jane Eyre".

Although Jane Eyre is now commonly accepted into the canon of secondary school English literature, its immediate reception was in stark contrast to its modern-day reception. In 2003 the novel was ranked number 10 on the BBC's survey The Big Read.

Total Running Time (TRT): 18 hours, 25 min. Reading by Elizabeth Klett.

Charlotte Brontë (1816-1855) was an English novelist and poet, the eldest of the three Brontë sisters who survived into adulthood, whose novels are English literature standards. She wrote Jane Eyre under the pen name Currer Bell.
Listen to sample
---