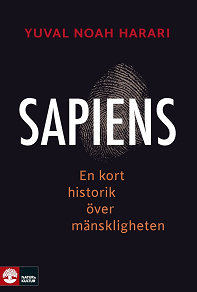 Isbn:
978-91-2714-040-0
Publisher:
Natur & Kultur
Category:
History
Accessible since:
January 2015
---
Sapiens : En kort historik över mänskligheten
Sapiens är en medryckande och tankeväckande bok om mänsklighetens historia som på kort tid blivit en internationell bästsäljare. Yuval Noah Harari för med imponerande lätthet samman flera olika forskningsområden och perspektiv när han tar oss med från Homo sapiens första steg på jorden till i dag.
För 100 000 år sedan fanns det åtminstone sex olika arter av människor på jorden. I dag finns bara en. Homo sapiens.
Varför blev just vår art så framgångsrik? Hur kommer det sig att vi skapade städer och kungariken? Varför började vi tro på gudar, nationer och mänskliga rättigheter? Varför litar vi på pengar, böcker och lagar? Hur blev vi förslavade av byråkrati, konsumism och jakten på lycka?
»Djärv, mångfacetterad och provokativ utmanar Sapiens allt vi trodde att vi visste om att vara människa: våra tankar, våra handlingar, vår styrka … och vår framtid.«
the Independent
 »Den här fascinerande boken kan inte sammanfattas;du måste helt enkelt läsa den.«
Financial Times
 »Sapiens tar sig an de största frågorna både i historien och i vår moderna värld.«
Jared Diamond, författare till Vete, vapen och virus
Dr Yuval Noah Harari (1976) har doktorerat i historia vid University of Oxford och undervisar vid Hebreiska universitetet i Jerusalem. Hans specialområde är världens historia och hans forskning fokuserar på breda historiska frågor som »Hur ser relationen mellan historia och biologi ut?«, »Är historien rättvis?« och »Har människor blivit lyckligare under historiens gång?«.
Harari har publicerat ett flertal böcker och artiklar och hans föreläsningar på nätet om världens historia har gjort succé. Sapiens – en kort historik över mänskligheten har översatts till ett flertal språk och ges ut i över 30 länder.


Read sample
(Download)
---