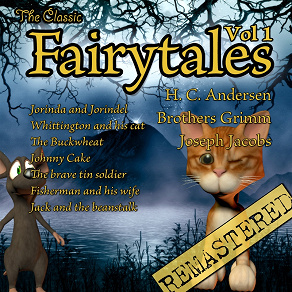 The classic fairytales vol1
The Classic fairytales volume1 en härlig sammanställning av de klassiska sagorna från några av våra största författare genom tiderna; Bröderna Grimm, H-C Andersen och Joseph Jacobs. 
Sagorna skrevs för flera sekler sedan men vi fortsätter att berätta dessa klassiska sagor för våra barn än idag.
I  "The classic Fairytales volume 1" får vi höra "The Brave Thin Soldier", "The Fisherman's Wife" och "Jack and the Beanstalk" för att nämna några av alla de fantastiska sagorna från denna samling.
Den här remastrade ljudboken innehåller 7 klassiska sagor. Engelsk inläsning.
Listen to sample
---