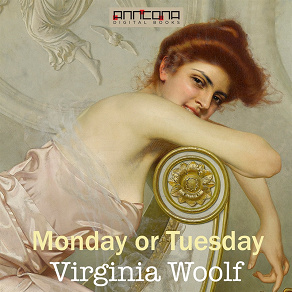 Isbn:
978-91-7605-663-9
Publisher:
Anncona Media
Category:
Short stories
In english
Accessible since:
January 2016
Narrator:
Liz Mourant
Length: 1 hour 59 minutes
---
Monday or Tuesday
Monday or Tuesday, is a short story collection by Virginia Woolf, first published in 1921.
Monday or Tuesday offers an excursion into Virginia Woolf's early excursions in "stream of consciousness" writing she was to become famous for; including her so-termed "Moments of being," in a format of a collection of short stories mainly concerned with people's thoughts as well as psychology in general, the human and particularly female condition, and aesthetics which inspired and engaged her.
The collection includes the following shorts:
- A Haunted House
- A Society       
- Monday or Tuesday
- An Unwritten Novel
- The String Quartet  
- Blue and Green      
- Kew Gardens          
- The Mark On The Wall       
TRT (Total Running Time): 2 hours.
Adeline Virginia Woolf (1882-1941) was an English author, essayist, publisher, and writer of short stories, regarded as one of the foremost modernist literary figures of the twentieth century.
During the interwar period, Woolf was a significant figure in London literary society and a member of the Bloomsbury Group.
Her most famous works include the novels Mrs. Dalloway (1925), To the Lighthouse (1927), and Orlando (1928), and the book-length essay A Room of One's Own (1929), with its famous dictum, "A woman must have money and a room of her own if she is to write fiction."
Listen to sample
---