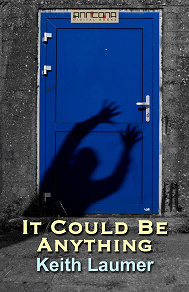 It Could Be Anything
It Could Be Anything is a science fiction novella by American author Keith Laumer first published in 1963.
A science fiction story by the great Keith Laumer - what more needs to be said?
A young man sets out from his rural town to see the world for himself. What is really over the next hill? What does a big city look like? Is there really an ocean? After all, we only have the testimony of others that tell us about these things. Full confidence and belief in himself, he boards the local train, falls asleep and then ..... finds himself alone, the three cars abandoned .... the engine is gone and the tracks; well, the tracks just end in the middle of a grain field.
What is going on? What kind of reality is this? Or is what we 'know' just illusions and in fact, It Could Be Anything!!! 
Keith Laumer, well-known for his tales of adventure and action, shows us a different side of his talent in this original, exciting and thought-provoking exploration of the meaning of meaning.
It Could be Anything was first published in Amazing Stories, January 1963.
John Keith Laumer (1925-1993) was an American science fiction author. Prior to becoming a full-time writer, he was an officer in the United States Air Force and a diplomat in the United States Foreign Service.
Keith Laumer is known for the Bolo and Retief stories. The Bolo stories chronicle the evolution of super tanks that eventually become self-aware through the constant improvement resulting from centuries of intermittent warfare against various alien races. The Retief stories deals with the adventures of a cynical spacefaring diplomat who constantly has to overcome the red-tape-infused failures of people with names like Ambassador Grossblunder. The Retief stories were greatly influenced by Laumer's earlier career in the US Foreign Service.
---