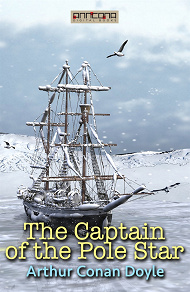 The Captain of the Pole Star, and Other Tales
The Captain of the Pole Star, and Other Tales is a collection of early Sir Arthur Conan Doyle short stories.
This collection includes stories of mystery, comedy, shipwrecks and fantasy.  Stories included are:
- The Captain of the "Pole Star"
- J. Habakuk Jephson's Statement
- The Great Keinplatz Experiment
- The Man From Archangel
- That Little Square Box
- John Huxford's Hiatus
- Cyprian Overbeck Wells--A Literary Mosaic
- John Barrington Cowles
- Elias B. Hopkins, Parson of Jackman's Gulch
- The Ring of Thoth
The Captain of the Pole Star and Other Tales was first published in 1890. E-Book: ePUB, 84,600 words, average reading time 7 hours. Unabridged full version. Also available as audiobook read by Richard Kilmer, running time 9 hours, 21 min.
Sir Arthur Conan Doyle (1859-1930) was a Scottish physician and writer, most noted for his stories about the detective Sherlock Holmes, generally considered a milestone in the field of crime fiction, and for the adventures of Professor Challenger. He was a prolific writer whose other works include science fiction stories, plays, romances, poetry, non-fiction and historical novels.
---