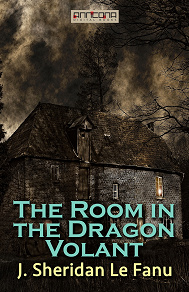 The Room in the Dragon Volant
The Room in the Dragon Volant is a gothic mystery novel by J Sheridan Le Fanu.
Word was the hotel -- the Dragon Volant -- was haunted. Worse yet, Richard Beckett had taken lodging in the very room that gave the hotel its curious reputation.
J. Sheridan LeFanu's Gothic mystery novel is narrated by Richard Beckett, a young Englishman abroad in Napoleonic-era France. He falls instantly in love with a mysterious and imperiled Countess, whom he glimpses momentarily behind her black veil.
In order to be near her, he takes a room in the Dragon Volant (the Flying Dragon), a haunted inn that has been the site of mysterious disappearances.
The Room in the Dragon Volant was first published in 1872.
Also available as audiobook, total running time: 4 hours, 34 min. Reading by Elizabeth Klett.
Joseph Thomas Sheridan Le Fanu (1814-1873) was an Irish writer of Gothic tales and mystery novels. He was the leading ghost-story writer of the nineteenth century and was central to the development of the genre in the Victorian era. M. R. James described Le Fanu as "absolutely in the first rank as a writer of ghost stories". Three of his best known works are Uncle Silas, Carmilla and The House by the Churchyard.
---