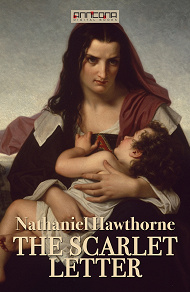 Isbn:
978-91-7605-581-6
Publisher:
Anncona Media
Category:
Novels
In english
Accessible since:
March 2018
---
The Scarlet Letter
The Scarlet Letter: A Romance is a novel by Nathaniel Hawthorne first published in 1850.
The Scarlet Letter is set in a historical setting, written by Nathaniel Hawthorne, and is considered to be his best work. Set in 17th-century Puritan Boston, Massachusetts, during the years 1642 to 1649, it tells the story of Hester Prynne, who conceives a daughter through an affair while her husband is missing at sea. Hester struggles to create a new life of repentance and dignity.
The Puritan Elders of the New England settlement of Boston, where she lives, condemn her to wear a scarlet letter A to signify her adultery. She refuses to name her lover, and he too keeps his silence, but with a terrible cost.  Throughout the book, Hawthorne explores themes of legalism, sin, and guilt.
The tale is prefaced with an account of the Salem Custom-house where Nathaniel Hawthorne was working when he began writing The Scarlet Letter.
Nathaniel Hawthorne (1804-1864) was an American novelist and short story writer. He was born in 1804 in Salem, Massachusetts and his ancestors include John Hathorne, the only judge involved in the Salem witch trials who never repented of his actions. Nathaniel later added a "w" to make his name "Hawthorne" in order to hide this relation.
Hawthorne's works belong to romanticism or, more specifically, dark romanticism, cautionary tales that suggest that guilt, sin, and evil are the most inherent natural qualities of humanity. Many of his works are inspired by Puritan New England, combining historical romance loaded with symbolism and deep psychological themes, bordering on surrealism.
---