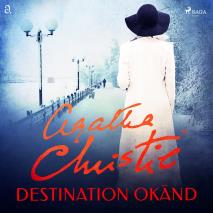 Isbn:
978-87-1178-818-9
Publisher:
Saga Egmont
Category:
Crime & Mystery
Accessible since:
December 2018
Narrator:
Kerstin Weman Thornell
Length: 7 hours 55 minutes
---
Destination okänd
Hilary Craven har förlorat sina barn och blivit lämnad av sin man. Hon står i begrepp att ta sitt liv på ett marockanskt hotell när hon blir tillfrågad av den hemliga agenten Jessop att åta sig ett farligt uppdrag istället för att ta en överdos. Hilary antar uppdraget som visar sig gå ut på att hon ska låtsas vara kärnforskaren Thomas Bettertons fru som försvunnit under mystiska omständigheter. Man tror nu att hon kan ha anslutit till Sovjetunionen. Snart finner sig Hilary bland en udda blandning resenärer på väg mot en okänd destination. 
Agatha Christie, 1890 – 1976, var en brittisk deckarförfattare. Christie är en av världens mest sålda författare och var mycket produktiv under sitt liv. Hennes mest kända detektivkaraktärer är den äldre damen Miss Marple och den excentriska belgaren Hercule Poirot. Tillsammans med Arthur Conan Doyle är Agatha Christie en av deckargenrens mest tongivande författare. Hon bröt gärna mot traditionella mönster i sina deckare och överraskade ofta läsaren med vändningar på slutet. Christie har även skrivit flera framgångsrika pjäser, där Råttfällan (The Mousetrap) innehar världsrekord som den pjäs som spelat under längst tid.
---
"Destination okänd" © 1956 Agatha Christie Limited. All rights reserved.
"Destination Unknown" © 1954 Agatha Christie Limited. All rights reserved.
AGATHA CHRISTIE © is a registered trademark of Agatha Christie Limited in the UK and/or elsewhere. All rights reserved.
Listen to sample
---