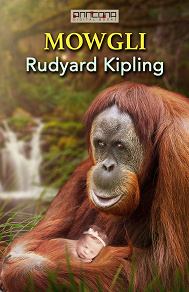 MOWGLI
Mowgli - All of the Mowgli Stories from the Jungle Books is a collection of all 9 wonderful and exciting tales about Mowgli from the first and second Jungle Books by Rudyard Kipling.

In the Jungle Books, Kipling tells about Mowgli, the human baby raised by a pack of wolves in the jungles of India. His exploits and adventures are many and varied especially his dealing with the other animals such as his wolf mother and father and brother wolves, Baloo the wise bear who teaches him the Law of the Jungle, and in his life long battle with Shere-Kahn, the lame human killing tiger.

The stories are put into a chronological order from when Mowgli was a baby in the wolf den (Mowli's Brothers) to his teen age years when he hears the irresistable call of civilization and being with his own kind (Spring Running).

Stories included are: Mowgli's Brothers, Kaa's Hunting, "Tiger, Tiger", Mowgli's Song, How Fear Came, Letting in the Jungle, Red Dog, Kaa's Ankus, Spring Running and finally we end with The Outsong.

E-Book: ePUB, 63,600 words, average reading time 5 hours, 20 min. Also available as audiobook, read by Phil Chenevert, running time 7 hours, 26 min. Unabridged full version.

Joseph Rudyard Kipling (1865-1936) was an English short-story writer, poet, and novelist chiefly remembered for his tales and poems of British soldiers in India, and his tales for children. Kipling is regarded as a major "innovator in the art of the short story"; his children's books are enduring classics of children's literature; and his best works are said to exhibit "a versatile and luminous narrative gift". In 1907 he was awarded the Nobel Prize in Literature, making him the first English-language writer to receive the prize, and to date he remains its youngest recipient.
---