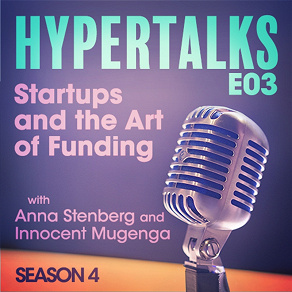 Hypertalks S4 E3
Anna Stenberg and Innocent Mugenga join us for the third episode of HyperTalks Season 4 to discuss the future of startups and what it takes to get your brilliant idea the funding it needs! Keep your ears open, aspiring entrepreneurs! Anna Stenberg is an Angel Investor and Founder of Women Executive Search (WES), an executive search company with a mission to innovate and challenge the headhunting industry. She is also a
board member of several startups and an investor with expertise in running large operations as well as dynamic start-ups within the online media, e-commerce, edtech, fintech and talent acquisition arenas.
Innocent Mugenga is the Founder of Learnability, which explores the human ability and desire to learn. He is a curious communicator and driven entrepreneur with a diverse professional background which includes everything from scaling a chain of retail stores to implementing communication strategies for leading brands.

We are five Digital Data Strategy students from Hyper Island in Stockholm. Every month we will publish a new episode where we talk about breathtaking subjects with interesting guests.


Listen to sample
---