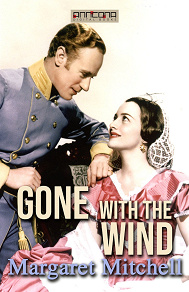 Isbn:
978-91-7605-162-7
Publisher:
Anncona Media
Category:
Novels
In english
Accessible since:
January 2020
---
Gone with the Wind
Gone with the Wind is a novel by American writer Margaret Mitchell. 
The story is set in Clayton County and Atlanta, both in Georgia, during the American Civil War and Reconstruction Era. It depicts the struggles of young Scarlett O'Hara, the spoiled daughter of a well-to-do plantation owner, who must use every means at her disposal to claw her way out of poverty after her family's plantation is pillaged during the American civil war.
Gone with the Wind was popular with American readers from the outset and was the top American fiction bestseller in 1936 and 1937. It still ranks as the second favorite book by American readers, just behind the Bible. As of 2010, more than 30 million copies have been printed in the United States and abroad. TIME magazine critics, Lev Grossman and Richard Lacayo, included the novel on their list of the 100 best English-language novels from 1923 to the present. In 2003 the book was listed at number 21 on the BBC's The Big Read poll of the UK's "best-loved novel."
Mitchell received the Pulitzer Prize for Fiction for the book in 1937. It was adapted into a 1939 American film, that received 10 Academy awards in 1940. The film is regarded as one of the greatest films of all time; it has placed in the top ten of the American Film Institute's list of the top 100 American films since the list's inception in 1998.
Gone with the Wind was first published in 1936. E-Book: ePUB, 421,500 words, average reading time 35 hours.
---