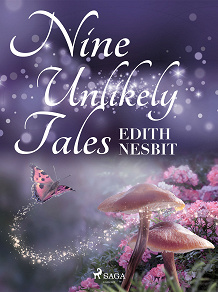 Nine Unlikely Tales
Are you a Harry Potter fan? Do you enjoy losing yourself in exciting fantasy worlds? If mystical creatures, princes, fairies, and other weird and wonderful beings are your thing, you will love these 'Nine Unlikely Tales' by Edith Nesbit.

It's hard to pick a favourite. Will you prefer 'The Prince, Two Mice and Some Kitchen-Maids' or maybe 'The Sums That Came Right'? One thing is for sure, no matter if you are young or old you be delighted by all of them.

Edith Nesbit, is also the author of such works as 'The Railway Children' and 'Five Children and It', both of which were turned into a children's TV series.

Edith Nesbit Bland (1858-1924) was a British author, activist and poet who published an extensive amount of children's books under the pen name "E. Nesbit", which are still widely read today. Amongst her most famous novels are 'The Railway Children', 'The Story of the Treasure Seekers', and 'Five Children and It', all of which were made into TV series'.

She is also the author of the book and animation 'The Greatest Adventure: The Book of Dragons', which fans of the film 'How to Train Your Dragon' will love.
---