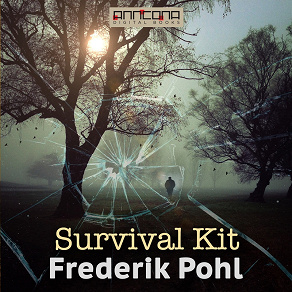 Survival Kit
Survival Kit is a science fiction novella by Frederik Pohl first published in 1957.
It wasn't fair—a smart but luckless man like Mooney had to scrounge, while Harse always made out just because he had a.... Survival Kit.
Survival Kit was first published in Galaxy in May 1957.
Total Running Time (TRT): 1 hour, 3 min.
Frederik George Pohl, Jr. (1919-2013) was an American science fiction writer and editor, with a career spanning more than seventy-five years. From about 1959 until 1969, Pohl edited Galaxy and its sister magazine If; the latter won three successive annual Hugo Awards as the year's best professional magazine. He won four Hugo and three Nebula Awards. 
The Science Fiction Writers of America named Pohl its 12th recipient of the Damon Knight Memorial Grand Master Award in 1993 and he was inducted by the Science Fiction and Fantasy Hall of Fame in 1998.
Listen to sample
---