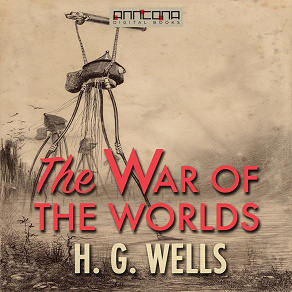 Isbn:
978-91-7759-114-6
Publisher:
Anncona Media
Category:
Novels
Fantasy & Sci-Fi
In english
Accessible since:
January 2017
Narrator:
Rebecca Dittman
Length: 6 hours 27 minutes
---
The War of the Worlds
The War of the Worlds is a science fiction novel by H. G. Wells first published in 1898. The book is considered to be one of the first science fiction novels.
The War of the Worlds is one of the earliest stories that detail a conflict between mankind and an extra-terrestrial race. The novel is the first-person narrative of both an unnamed protagonist in Surrey and of his younger brother in London as southern England is invaded by Martians. The novel is one of the most commented-on works in the science fiction canon.
The War of the Worlds was published in 1898 at a time when Wells wrote a series of novels related to a number of historical events of the time. The most important of these was the unification and militarization of Germany. At the end of century there was much speculation about life on the planet Mars. 
The novel demonstrates Wells' typical pessimistic outlook on human nature and offers a good deal of criticism on society and people's ignorance and vanity. The War of the Worlds can be read as an indictment of European colonial actions around the globe at that time - with which the injustice of the Martian invasion can be compared. Wells has since been credited with predicting quite a number of technologies, such as laser-like rays, industrial robot-like machines, and chemical-warfare.
The frightening images of people fleeing from gigantic tripod machines and the prospect of life under Martian rule have served as a bottomless well of inspiration for popular culture. 
The War of the Worlds has been both popular (having never been out of print) and influential, spawning half a dozen feature films, radio dramas, a record album, various comic book adaptations, a television series, and sequels or parallel stories by other authors. It has even influenced the work of scientists, notably Robert Goddard, who (inspired by the book) invented both the liquid fuelled rocket and multistage rocket, which resulted in the Apollo 11 moon landing 71 years later.
Total Running Time (TRT): 6 hours, 27 min. Reading by Rebecka Dittman.
Herbert George "H. G." Wells (1866-1946) was an English writer, now best known for his work in the science fiction genre. He was also a prolific writer in many other genres, including contemporary novels, history, politics and social commentary, even writing textbooks and rules for war games.
Wells is one person sometimes called "The Father of Science Fiction", as are Jules Verne and Hugo Gernsback. His most notable science fiction works include The War of the Worlds, The Time Machine, The Invisible Man and The Island of Doctor Moreau.
Listen to sample
---