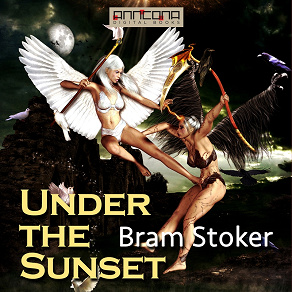 Under the Sunset
Under the Sunset is a collection of short stories by Bram Stoker (the author of Dracula), first published in 1881.
Originally conceived of by the author to be a collection of "Children's stories," these tales lean towards the dark and moody and even sometimes scary.
Several of the tales contained in this collection are considered to be examples of the finest stories ever written by Stoker.
Its significance in the development of fantasy literature was recognized by its republication by the Newcastle Publishing Company as the seventeenth volume of the celebrated Newcastle Forgotten Fantasy Library series in October, 1978.
The tales included are:
Under the Sunset
The Rose Prince
The Invisible Giant
The Shadow Builder
How 7 Went Mad
Lies and Lillies
The Castle of the King
The Wondrous Child
Total Running Time (TRT): 4 hours, 16 min. Reading by Sandra Cullum. 
Abraham "Bram" Stoker (1847-1912) was an Irish author. Dracula was Bram Stoker's fifth and by far his most famous novel. Other novels include The Snake's Pass (1890), The Jewel of Seven Stars (1903), The Lady of the Shroud (1909) and The Lair of the White Worm (1911).
Listen to sample
---